Wulingyuan Scenic Area is located in the northwestern part of the Hunan province of china. It is comprised of four major parts: Zhangjiajie National Park , Tianzi Mountain Natural Reserve, Yangjiajie Scenic Area and Suoxiyu Natural Reserve. The total areas covered by Wulingyuan is approximately 690 square kilometers and it consists of 3,100 peaks, where half of them are more than 200 meters tall. The graphical view of Wulingyuan looks like an elegant impressive landscape with spectacular valleys and gorges.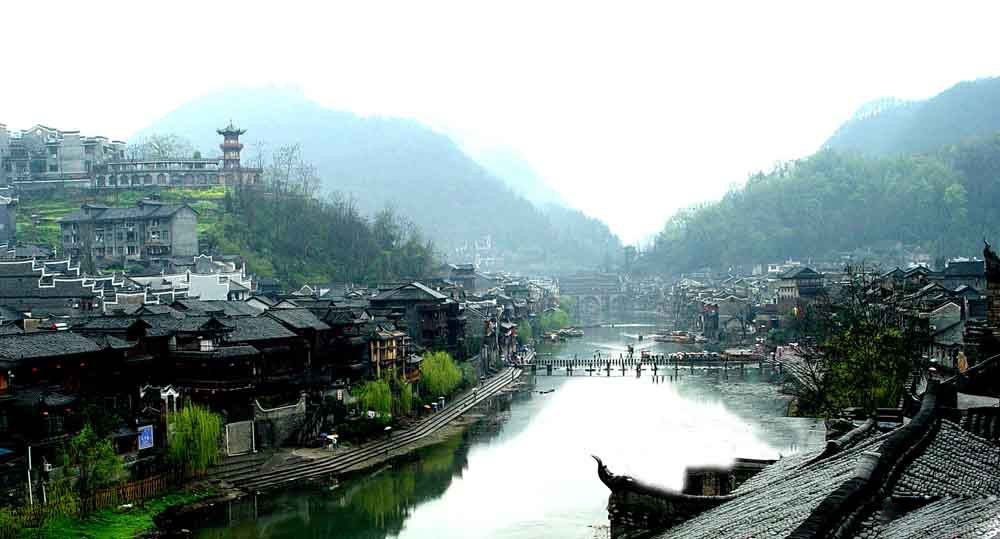 Wulingyuan is a thick dense tropical forest comprised of rich biological forest resources, lakes, caves, waterfalls and mountains along with wide variety of species. Wulingyuan is listed among the top 40 best scenic spots in china and it also got placed in the Worlds Heritage List in 1992. Wulingyuan has more than 560 highlight spots to be viewed, including rare waterfalls, giant peaks, caves, rock stones , hidden valleys and deepest gorges.
The first State-Level National Forest Park in china is Zhangjiajie National Park. The park is entirely covered with different kinds of plant species and wide variety of trees. The park is a stored wealth house with many biological resources and the most interesting unique item in the Zhangjiajie National Park is lobster flower. The lobster flower changes its color five times within a day. The highlights Zhangjiajie National Park are Huangshi Fort , Yuanjiajie and Golden Whip Stream. The Golden Whip Stream is a pure crystal clear water flowing through the giant peaks with huge foaming surface. The Huangshi Fort and Yuanjiajie are spectacular classic spots to view.
The largest of all national parks is the Suoxiyu Natural Resource Reserve Park. It is the center of all the beautiful scenic spots in Wulingyuan. The name Suoxiyu is defined as "Mountainous village covered with dense fog". Suoxiyu Natural Resource Reserve Park contains variety of peaks which are so attractive and impressive and it also consists of West Sea and Bao Feng Lake which resembles the habitual practice of Hunan Province.
The Tianzi Mountain Natural Resource Reserve Park is comprised of strange rocks and peaks with dense fog and dark clouds and it is located in the high elevation path which makes it difficult to watch the scenic spots. The Teaboard Tower, Lao Wu Chang and Yellow Dragon Spring are the areas famous scenic spots in the Tianzi Mountain Natural Resource Reserve Park. This scenic spots are especially developed by the Hunan people for tourist attraction purposes. The park is famous for four spectacular scenic views, including: the mist and the cloud, the shining moon in the night, snow winter and rosy cloud in the mornings and evenings.
Yangjiajie's scenic area is later added to the Wulingyuan's scenic area in 1990s. Until then, it was preserved and unmaintained by the China Government. Yangjiajie is well equipped with peaks , waterfalls, lakes and gorges. This area covers vast greenery landscape with wild vegetations and plants.
Wulingyuan is highlighted as a major tourist spot in china because of the presence of these four major sections
The climate is subtropical and monsoonal is the best time to go there, characterized by plenty of rainfall and sunshine. The temperature in January is around 5C and in July can reach about 28C. Visit during April or October when the valley is at its most lush. Try to avoid climbing the mountains in the rain, since the pathways can be slippery and when you get to the summit you may well be disappointed when you're greeted by a blanket of thick fog instead of a scenic view.




Traveler's tips



- There is a 45 CNY ($5 US) charge to enter the National Park and you can purchase a map either in Zhangjiajie city or village, but beware they will be in Chinese, so perhaps it's wise to carry a good guide book with you.
- Make sure you carry sufficient water and food.




Where to stay



Many of the Tujia people have ventured into the hotel business and there are many options inside the park, providing amazing views as soon as you open your eyes in the morning. TryZhangjiajie Hotel (Tel: 0744 5712388), Pipaxi Hotel (Tel: 0744 5718888) or Xiangdian Mountain Inn (Tel: 0744 5712266).
Follow @PasukanGombal
---
Description:

WULINGYUAN NATIONAL PARK

Rating:

4

Reviewer:

Penilai Artikel

- ItemReviewed:

WULINGYUAN NATIONAL PARK
---